---
I am so excited to (FINALLY!!) invite you for some amazing and brand new in person events again!
ENERGY.
JOY.
NATURE.
SPACE.
FREEDOM.
WATER.
AIR.
EARTH.
FOCUS.
DREAM.
PLAY.
HEAL.
CONNECT.
you missed it too?
Join me for my
CONNECTme ENCOUNTERS 
in Berlin and in Portugal.
It`s not a workshop - As I think we should stop "working" on ourselves like machines and start learning how to connect instead.
It`s not a retreat - As I don`t offer you (just) a space to relax, withdraw, move inside and hide in your comfort zone.
I CALL IT ENCOUNTER - As I want to offer you more than a workshop, more than a retreat.
Encounter means, that you will be challenged to meet, to connect - with yourself but also with others. It means that we create a space in a group which gives you the opportunity to grow through the contact with me and with the other group members.
It`s a space where you are welcome.
With your questions, doubts, anxieties, dreams, tears, shout-outs, laughters.
Our goal is nothing less than CHANGE.
On a cognitive, emotional, physical and spiritual level.
If you are willing to connect, you will leave the place in a different state, in a different energy that brings you:
one step further.
Towards your inner truth.
---
---
The topic of the event is: ONE STEP FURTHER.
You bring a question.
I give you tools and exercises but most of all the SPACE to connect with your inner wisdom which is the only place you will find authentic answers to that question.
These tools are:
Coaching tools, mental inquiries, meditations, visualisations, physical movements, breath work, group sharings, working with the natural elements, learning from nature ..
The question you bring can be about any topic. You just need to have the wish, willingness and curiosity to get one step further in finding an authentic answer to this question.
You might have a work related question or a question concerning your relationship or family, or it is about your health and wellbeing, your future, a very specific problem you have or a more general wish to connect better with yourself and others. It can be general, specific, big, small ..
You decide. It`s your question.
And YES, it is necessary to share this question with me and the other group members openly.
Towards the end of the event we will also define a concrete NEXT STEP for you to take to directly apply what you experienced and to not let the change fade away as soon as you leave and go back into your daily life.
ON TOP of the live experience you will get a digital basket with pre- & post-event-support including audios and videos to stay connected to what you practiced and discovered during the event.
🛒 THE DIGITAL BASKET INCLUDES: 🛒
PRE-EVENT-SUPPORT:
WELCOME VIDEO

A 40 MINUTE VIDEO-SESSION (also available as audio download) TO PREPARE BODY, MIND, HEART AND SOUL FOR CHANGE AND TO STEP INTO YOUR ENERGY which you can use every day as your new energizing morning routine. It includes a body warm-up, intention setting, focus on inviting new qualities into your life, some easy-to-do and fun body-work-outs and a 10 minute meditation
A 6 MINUTE VIDEO-BREATH-WORK-SESSION (also available as audio download) which you could do right after the prep-session or to create focus and energy during your day whenever feeling tired or stressed
A 14 MINUTE AUDIO-PREPARATION FOR THE BREATH-WORK-SESSION so that you know what you are getting yourself into ;)
The FIRST PART OF THE CONNECTme-WORKBOOK with coaching questions and exercises which prepare you for accessing your inner truth
COOL?!
---
The steps we take during our encounter are based on the 6 steps of my book "CONNECTme":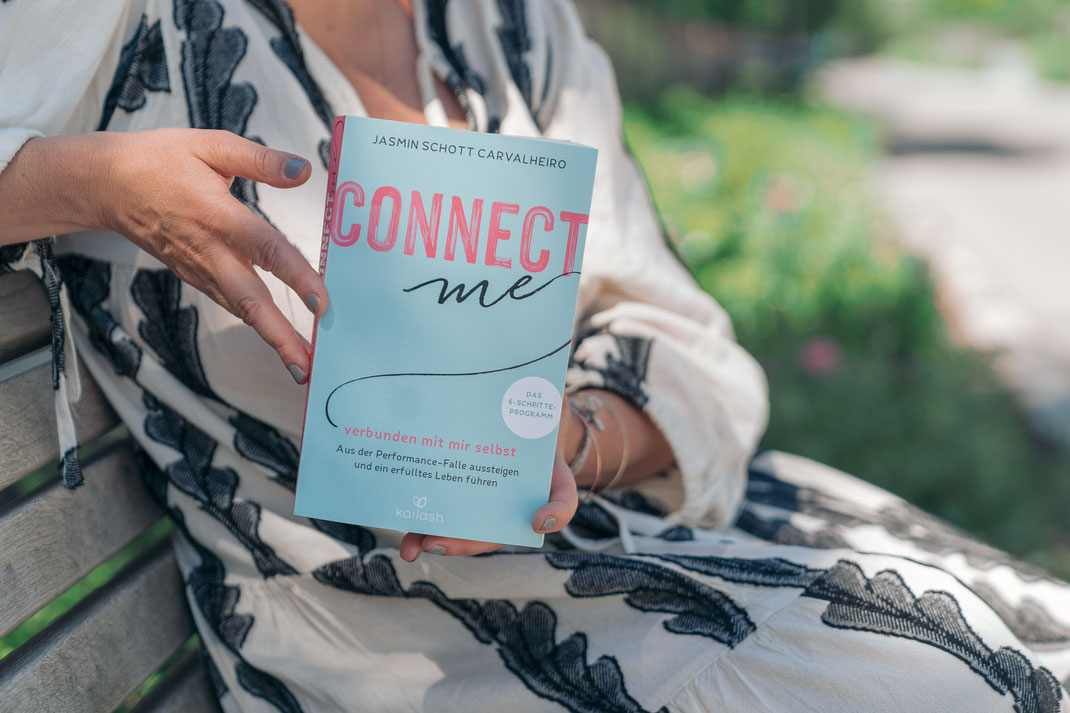 1. GROUNDING
Finding inner stability and a strong base to start from.
2. DETOXING
Letting go what keeps you unconnected to your inner wisdom.
3. LOVING
Answering your question from your heart values.
4. BONDING
Where do you find true support for your next step?
5. BOUNDING
How can you keep healthy boundaries to not fall back into old habits?
6. GROWING
How do you stop sabotaging your growth and what is the exact next step you will take and when?
---
HERE YOU FIND THE AGENDA OF OUR 1-DAY-EVENT:
YOU CAN DOWNLOAD THE AGENDA HERE
AGENDA Event Berlin (1).pdf
Adobe Acrobat Document
81.1 KB
👩🏻‍💻 POST-EVENT-SUPPORT:
🛒 After the event, your digital basket will be filled with
GROUNDING audio exercise combining elements of meditation, shamanic journey and visualization

which will remind and encourage you to keep your focus on your goal and of the energetic support system around you
TRUE MOTIVE AUDIO MEDITATION to connect to motives which might be strong hidden forces and work against your success
A longer BREATH-WORK-SESSION to support letting go and making space for the new
A SHAMANIC JOURNEY with drumming to connect with your spiritual support team
A MEDITATION TO LET GO OF TOXIC RELATIONS to develop bounding and bonding which supports you

SHADOW WORK

exercise

The full CONNECTme-WORKBOOK with exercises for each of the 6 steps including LIST OF SELF-SABOTAGING-STRATEGIES 

and how to overcome them, 

AWARENESS-MAP 

to become aware of the conscious and subconscious motives behind your goals, 

HEAD-HEART-JOURNALLING

 exercise to support developing a heartset next to your mindset
AFTER I RECEIVED YOUR EMAIL, YOU ARE ON THE WAITING LIST FOR THE EVENT AND I WILL LET YOU KNOW WHEN THE NEXT CONNECTme EVENT WILL TAKE PLACE IN BERLIN!
---
  ERICEIRA, PORTUGAL 
What can I say?! I love Berlin and the surrounding areas, forests and lakes.
But look at THIS:
It`s a magical place and we will do some magical CONNECTme events here.
YOU WANT TO BE PART AND KNOW MORE ABOUT IT?
---